Digital Signage solution for the distribution and automatic update of information and advertising content.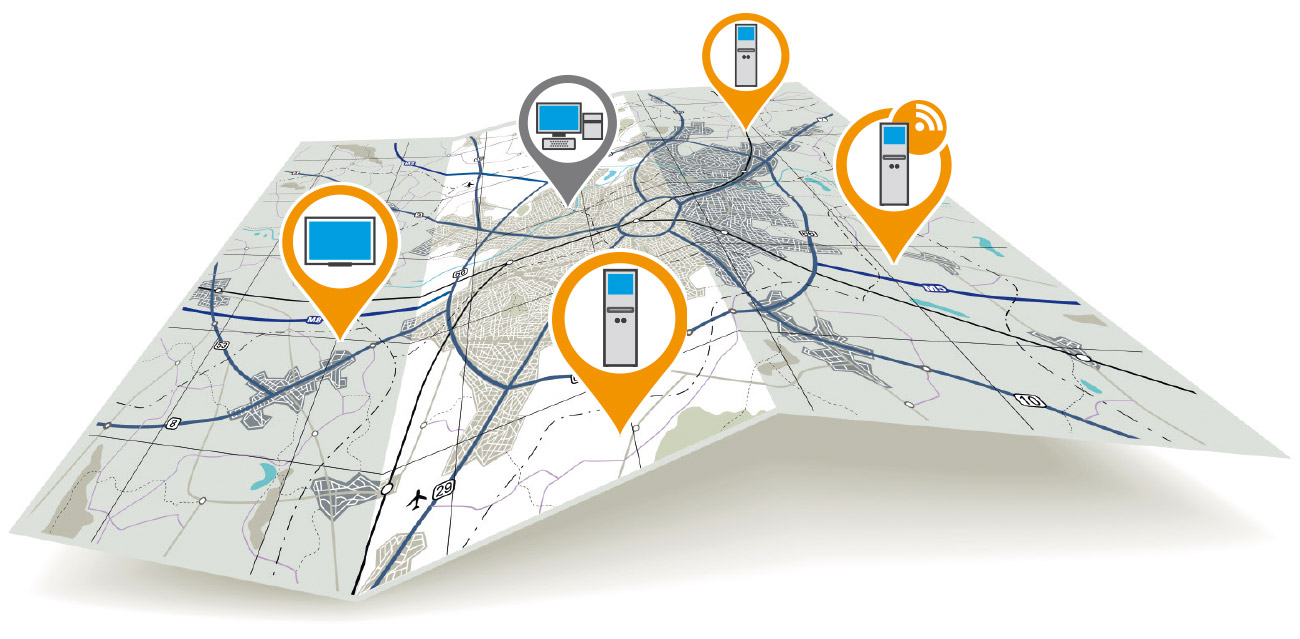 A powerful platform for managing editorial flows, programming differentiated schedules and content distribution.
ADS-POINT is an advanced solution for the selective transmission of information, services and advertising messages over the territory. The system is based on a software platform that allows to centrally control and monitor a series of devices located in shopping malls, public areas, means of transport and environments characterized by high traffic or by the presence of a clearly identifiable target audience.
Management of editorial flow and automatic distribution of content.
ADS-POINT integrates powerful application functions for managing editorial flows (creation, revision, approval, publication of content) and programming differentiated schedules for distribution networks.
Totems, displays and mega-screens are connected to the Internet via VPN (Virtual Private Network) to receive updates. The refresh of contents can happen in real time or according to pre-established timelines. It is possible to customize contents for each group of terminals and for individual devices.
Interactive terminals
The status of each terminal is centrally monitored in real time: control functions, self-diagnosis and alerts indicate potential anomalies or malfunctions. In case of a fault, the system sends an e-mail to signal the automatic request for intervention. If the anomaly is caused by a temporary power failure, the terminal continues to operate, using the information backed up in local memory. The choices made by the user are transmitted to the company in the form of statistical data on the consulted pages.
Gathered information makes it possible to analyze customer behavior and better understand their needs.
Custom design
The system can be adapted to any need. The network is freely configurable: interface, schedule and editorial flows are fully customizable in graphics and content.
The totem can be painted with corporate colors, decorated with the logo and with distinctive graphic elements.
Form and technological equipment can be produced based on specific requests from the customer, even for limited series.